Raga Leads: Detailed step by step methods and techniques to play Indian Raga and Film Songs on the guitar Fluently and Efficiently the way it is Sung
Stop just hitting notes; bring them to life. Stop wasting time and money on generic guitar methods; gain skill and independence using Indian Guitar methods.
Have questions? Write to me: [email protected] or use this contact form. I will reply soon.

It is very satisfying to play raga or film songs on the standard tuned guitar, fluently as if it is sung. But, where to begin, what path to follow... the process can be overwhelming.

How to connect Indian music to a western instrument like guitar, in a smart way? What are the most obvious, most direct and useful methods to play Indian music on the guitar?
Maybe you don't know much about scales or ragas. Maybe you want to go beyond just playing and really know what makes music work, so that you can adapt it to your needs.
Maybe you have been playing for some time, but now want to go beyond disjoint hits and make the notes connect in grace. to make the guitar flow like it is singing. How do you improve fluency by changing your fingering logic? How do remove the delay in your playing by following finger and phrasing best practices?
There are steps you can follow to become a better guitar player. This course will detail them to you in a step by step manner + you will have special access to me for custom corrections and guidance from me.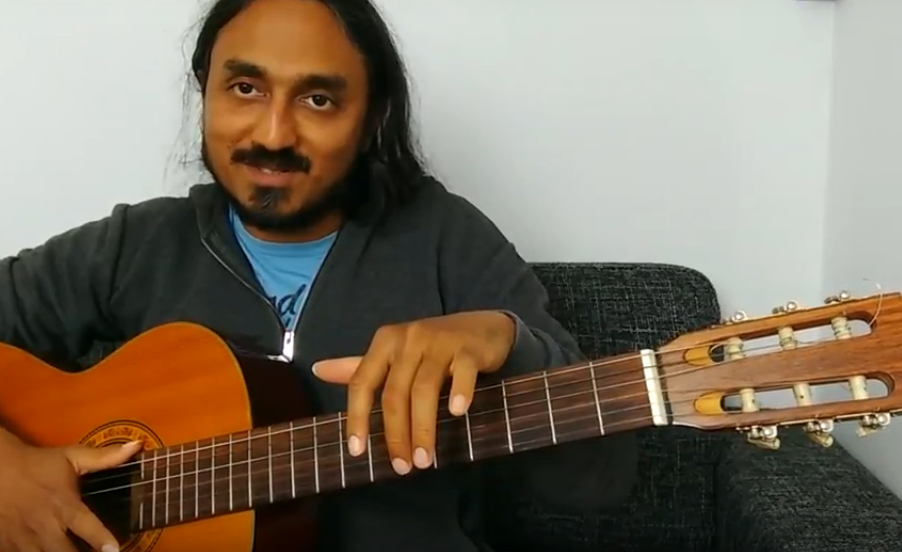 My name is shyam (monk) from the youtube channel musicianself & shyammonk. I will help you cut through the clutter of online video tutorials and help you streamline your music learning process using methods and techniques my students and I use.
Click the button on top for fee details and 12 month payment plan options.

NO-RISK GUARANTEE I invite you to try the course without any risk. If you find that the course is not for you, let me know within 30 days of purchase and I will happily refund your money. No Problem. In fact based on your questions, if i feel the course is not a good match for you, I will suggest a refund.

What students are saying
Buddhan Rajarathnam says
I am a Doctor from Chennai. I have been trying to play guitar since almost 2 years. I felt my progress was bit slow and directionless. I saw some YouTube videos of Shyam- immediately impressed by his unique way of teaching.
I have been learning guitar based on trinity school of music grades. And always wanted to play Carnatic based Tamil film songs. Both are entirely different. That was the main reason I wanted to join the course.
I joined the course 3 months back. The course has been well constructed- teaching from basics like slides, hammering , pull offs and then details of Raga and guitar notes and so on. I am confident that I would be able to reach my goal when I complete the course. I already started playing one or two songs.
As I said the teaching is unique because he wants you to understand and learn, so that in future on your own you would be able to play.
No spoon feeding. That is the most important aspect I like about the course.
Even though his classes itself detailed enough to learn and play , sometimes you may not identify your mistakes- some fine tunes - some tricks and tips - he gives after analysing your practice videos. That is extremely useful.
Definitely I would recommend the course to someone who has been playing for a while (may be six months or so) and wants to learn Ragas and film songs. Or even intermediate and advanced guitar players if they want to understand about Carnatic Ragas - this course would be useful.
No more time waste - sucked into endless whirlpool of generic tutorials that don't serve your needs.
No more searching in the dark for the right steps, confirmation that you are on the right path.
Benefit from:
step by step videos starting from the very basic moves of playing Indian Raga or Film Songs on the Standard tuned guitar, fluently and efficiently as it is sung. (basic familiarity with the instrument for a month or so is enough - then you can directly start practising Indian style techniques without wasting time and effort on generic methods)
gradually advance with videos and compositions that build upon the skills from the previous video lessons. Current video/content list is given on this page below - and more videos/ragas are being added. (you can get lifetime access or use the monthly payment option to use the course videos according to your needs)
12 month custom guidance from me by watching your practice videos (you can send videos taken with your mobile phones and I will get back to you with corrections and guidance meant just for you, your skill and needs) + interaction using Skype messaging (Email is crowded that I can' respond to most of them - but as a student you have the advantage of being in direct contact with me anytime you want and I can make sure you get my responses in time). This benefit alone will make it worth your investment, saving you from guess work and wasted time and effort, instead making sure you are progressing as fast and safe as you are meant to be.
interested in film song playing? send me your interest and you will get guidance playing your favorite pop or film songs (any language). These days i take request for song tutorials only from students.
I have a background with proven learning/analytical logical abilities (IIT Madras BTech). You benefit in the form of deep insights, corrections, guidance that make sure you get to your goals - through custom micro guidance based on the student's (your) needs - spanning through different learning goals of knowing, understanding, infering, adapting, improvising etc...
No risk : try it for 30 days. If you find it not useful, let me know and you will get a full refund - no questions asked :)
Start practising guitar that matters to you - start from where you are, practising towards what you finally want to play. If playing Indian raga and film songs on the guitar with all its grace, playing it as it is sung is your goal, don't wait... click the enroll button above and join me on the other side. I will be in touch with you once you join (anyway, there is no risk - i will refund if this doesn't work for you - you know from my youtube tutorials that I am not the hoarding, somehow money type - my free video tutorials should be a good guide for you to decide if am sincere and interested in your growth)

You are not an island!
Our music learning needs are directly connected with our life.

No one ever asked me to teach them how to press and hit.

Instead my students tell me things like:
I have grown up with these language movie songs. teach me how to play them as i hear them in my mind
I have always wanted to play Indian film songs on the guitar. i didn't know how, which methods to use. i was even told slides can't be longer than two frets. i have seen your videos, please teach me also, how...
I grew up in a family where Carnatic was sung... i want to play it on the guitar. easier with this instrument. show me how to connect raga to the west
I am done with discrete steps, disconnected playing. show me how to phrase and use your methods to play as it is sung
I have always wanted to play music. couldn't before due to many reasons. now i am a bit more settled. now i want to take my time to try learn music as i have always wanted to.
my daughter has started learning the violin and she sings too. I want to be able to play with her, teach me how
my friend likes these songs. i want to be able to enjoy them with her. teach me how
Whatever your reason, make sure the music learning will lead you to your goals directly.
That is needed for us to have the needed ignition to continue practice in the right direction.
This Course is an authoritative Step-by-Step guide, resource and library for you if you want to play Indian Raga (Carnatic songs) or Film Songs on the Guitar with ultimate fluency, the way it is sung...

...while understanding fingering logic, string/fret choices, phrase connection, delay reduction between phrases, connecting what you are playing with the sound of the real song you hear in your mind... !
PLUS you get access to me through emails and video emails. This way you can get personalized corrections and suggestions pertinent to your current skill level and playing interest. You will also get recommendations on what you could focus next for maximum returns in your specific personal case.
More and more videos are being added: geethams, krithis etc and phrase work, making it a library big enough to let you learn and practice more and more raga songs and phrases for a long time... You won't have to look anywhere else if building a repertoire of Raga songs and phrases is your aim. So if you are planning to spend money on Raga (carnatic) learning, then this accurate and detailed library is all you need.
See details on 4 use cases below, given in this order: Beginner, Been playing for sometime, Carnatic on guitar, Indian Film songs on the guitar.
What is included
A growing library of detailed How to on playing Carnatic compositions like Geethams, Krithis etc. on standard tuned guitar (no custom tuning needed).
Currently there is content for you to begin with - as a beginner or as someone who has been playing for sometime. More and more videos will be added over the year (and possibly beyond the year). Whoever joins now, will have lifetime access to the videos added over time - call it early adopters' advantage. The price will only go up as more and more content is added. My content is detailed, accurate (not just note hitting, but real raga moves) and in formats that help you learn well.
Explanations on moves, fingering logic, phrases playing etc as needed for Raga (examples are Carnatic based) and Indian film song playing.
Raga concepts explained, Raga moves explained, fingering logic, fret/string choices explained, different levels of understanding the song or music explained, tab videos + real time playing included when applicable.
Email from me with custom support, doubt clearance, guidance etc. I am here to help. You need to just send me practice videos and I will reply with videos in Email, giving you personalized recommendations, suggestions on what to focus on etc.
You can play on Nylon/Steel Acoustic/Electric - it's up to you. My students play in all different kinds of guitars. I used to use Steel and now use Nylon because i like it. (It is possible that playing slides on nylon string acoustic is easier than Steel string acoustic because of wider strings.)
All the content is provided through videos - you have lifetime access to them. They are hosted here on Teachable - they also have a mobile app - you can use the course from any device. I have repeated these lessons, concepts, details so many times with my one to one students, that the core can be converted to detailed videos that you can use at your own pace, without depending on me.
How to get custom help and guidance from me? Corrections with me is included through emails, videos in emails and possible occasional group meetings (although current students have let me known that they prefer email and video email corrections) for 12 months. As you can naturally understand, as a human being, it is impossible to guarantee long term personal time and support. I am invested in your learning and progress. So I will do the best I can, even after 12 months. If you have seen my youtube tutorials, you know I try to provide free videos which are better than the paid of many.
The price is kept in USD, so that it will be your credit card / bank who will be making the conversion, in case you are paying in any other currency. This way we can be sure of the amount you are paying me, without any conversion confusions.
The price Compare the price with other options you have. take into consideration the accuracy of the material, the teaching style and ability, the amount of content provided etc and make a decision based on the real price you may pay elsewhere compared to what you get from me.
I repeat: After you buy this course, if for any reason you feel this course is not for you, please let me know within 30 days of purchase and let me issue the refund. I want my work to actually work for you. Else the money back.
If you are taking the monthly payment option, you can pay for the months you use the course. Once you have paid for 12 months, there are no more payments and you will have lifetime access to the video content - whatever i may add in the future too.
How long will it take me to learn?
There is a way to answer this question in a useful manner, when we start to split your learning path into two: the initial vertical skill growth part and the continued horizontal repertoire building phase that is lifeong or as long as you choose.
What does this mean for us? In our course, the beginnging sections will make sure that you get your needed skills firm as soon as possible, giving your very clear guidlines and practice exercises to do so
then as we take the first song, you are connecting phrases, and even playing them in time, reducing the delays, using the play along tracks that will give you assistance. then on, each song you practice increases. your repertoire while making your skill better.
The answer to the quetsion is, the first part of the course is the part you will take your time to develop skills. That depends on how much time you are able to spend, if you send me practice videos, etc. Be patient with that phase because then on, it is up to you how much you want to practice. But for someone who wants to continue playing, there will be years and years of conetnt. Based on what I have heard from my current students, the geethams section alone will take months for an intermediate guitarist to complete and play reasonably well.
WHy Raga when I want to play Indian songs?
Most, almost all of Indian songs, South Indian songs from our favorite composers are Raga ased. Even when not explicitly obvious, the moves beneath are connected using the same techniques and methods that we use to play Raga on guitar, as taught in this course. Want to play Indian music on the guitar? Learn Raga based playing on the guitar.
I am 30/40/50/60. Isn't a bit too late?
1. if playing Indian music is off interest to you, learn to play the Raga moves well on the guitar. Keep as 15 minutes 3 times a week (yes, that is it) and don't stop for a year. By the time you are on your 3rd month, you will start feeling the difference. By the 8th month or so, you again cross the next threshold. Of course it is different for different people, but, the point is it is just a matter of one note after the other, using the best practices and right techniques and mind set, the right logic and planning, like we will learn in the course.
2. focus on your final goal, what interests you too play the guitar. then work towards it. like is said, I will be correcting your videos and guiding you. you can also use film song tutorials from my YouTube channel to learn them and send me practice videos
3. I have had students from all age groups. anyone who practiced for a few months, saw the results.
This is just the beginning...

This course is NOT for you if you are NOT interested in going beyond hitting the strings to play approximate versions of songs - Carnatic or Film.
But, for anyone who wants to play Carnatic songs or Raga based Indian films songs (majority of our songs are raga based or need connected playing for fluency), this is all you will ever need!
If you are a beginner...
wanting to play the guitar, especially your favorite Indian songs on the guitar, you could be confused about which path to take, what to practise, whether to trust your generic guitar teacher with your learning path etc...

Your confusion and doubts are genuine. As a beginner is when you can make the most difference (ROI?) in your musical path by learning and absorbing the most useful methods as early as possible. Here is where the curve is steep... a small change will bring magnified results. A degree changed during launch, makes miles of difference on where it is going to land!
You could be 30 years old, 50 years old or 75 years old.
This course will provide you with all the building blocks, take you through step by step exercises, give you the right methods and techniques, the needed theory and thinking that will enable you to go on a life long path of enjoying playing Indian raga and Film songs on the guitar, while knowing why you are doing what.
PLUS since it is a video based course, (along with support from me through emails, video emails and online group Q&A sessions as needed) you have the freedom to practice at your own pace, when life and time allows. (As you may know, I have years of experience teaching students, from which I understand how life's important matters will take our time, around which we will need to arrange our practice as possible.)
If you have been playing for some time...
...and you are absolutely happy with the fluency and natural sound of your playing, well... then you don't need me or the course. :)
But, if you are still not entirely happy with the sound,
if you are not sure how to use your fingers best, how to take care of fret/string options and arrange the phrases to maximize your playing fluency and efficiency (we really have deadlines when playing music, since we need to play and finish the notes within the rhythm and timing, placing each note accurately in position. Ever thought about it that way?)
if you want more connected playing,
less tension and more real singing kind of sound for your playing, this course will help you.

You will master starting from the 3 basic moves that allow you to bring in Raga style to your playing, how to connect them, a lot of phrases to practice your moves, learn how to think, know and practice what is important for you to connect all the 5 layers of playing, to bring COLOR to your playing, finally...

I am NOT just a content provider. I teach method, thinking, mindset, efficiency, resource management (fingers! :) ) ... the REAL How-to and not just show you the notes (which by the way is what usually people think of as the HOW, but really is just still the WHAT to play.)

Times have changed... internet made content easily accessible. Anyone with awareness knows that the micro details, observing and changing the real minute moves and details is what will give you ROI on your time and effort investment.
Practise the details. Observe, keep note of the difference in playing from last week when compared to today.. .practice on the details that will bring audible change in your playing...
See you on the other side...
If you want to play Carnatic on the guitar...
...please make sure that you have already watched me on Youtube, how I play Carnatic songs or Raga based Indian songs on the guitar. Please make sure that you like my style of playing. Different teachers/players: different style, different emphasis on what is important, what to focus on.
Also, like I said, I am not just a content provider. The way you play it i
I play and teach on Standard tuned guitar, without tuning changes. The course is explained using an acoustic nylon string guitar - you can play on electric or steel string as you choose.
I will not be explaining in any other tuning than Standard. All the tabs etc when provided will be for standard tuning.
But, there is enough explanation on how you can chart swaras on to the fretboard, the knowledge of which, will enable you to play in any tuning as you wish, as long as you take the time to adapt and connect the sequence of swaras with your particular tuning.
I will NOT spend time trying to help you with any other tuning other than Standard - usual EBGDAE guitar tuning.

Do you like the way I play and would like to play similarly? Then this course is for you.
An evergrowing library of Carnatic Raga Songs, raga phrases that will practically help you with playing Raga or Indian film songs (I don't have to tell you how so many of our Tamil/Telugu/Kannada/Malayalam songs are very good lessons on ragas and raga phrases) along with interaction with me

The course has lessons on Geethams, how to execute the needed moves, the needed theory and thinking, what is needed to bring the different aspects of your playing together and let you play Carnatic songs with extreme skill, using well thought out fluent and efficient playing.
If you want to play Indian Film songs on the guitar ...
... the way it is sung, this course will help you because most of our Film songs are raga based.
Phrases, exercises, thinking, bringing everything together through developing your feedback + how to play songs from notes or swaras, being efficient and fluent.

If you do a search of your favorite song raga, you wil find that most of them will result in a discussion on the raga used in the song.
NO film music will be taught directly through the videos, as in, so and so movie song how to play, is not included, because it is even better for you to master the real raga phrases which were used. Phrases in Nattai, Hamsadhwani, and numerous other ragas as found in popular songs will be taught in detail, including discussion on the fingering and fret choice, how to think about connecting etc.
Anyway, when you have a problem or have doubts or need guidance as to how to move forward, send me all your doubts, I am here to help you and guide you, so that it will actually work for you as long as you have interest in studying and achieving the skill.
The only case where one shouldn't buy this course is: If someone is absolutely against playing Carnatic Raga moves or Songs, then this is not for them.
Meaning, if you just want to hit some notes, don't take this course.

If you are interested in playing Raga based film songs, you will benefit from the exercises and also by playing the Carnatic lessons included. Anyway if someone wants to play Indian songs well on the guitar, they have to practice Raga moves – no other way, since like I said, most Indian songs are raga based, or involved slides etc to connect the notes.

But, I doubt someone would follow my work if they didn't have interest in raga songs or raga based songs. :)

If you have been looking for a way to become better and independent with your playing, this course will help because it will take you through the basics, making it thorough, giving you all the needed tools to make you start thinking the right way so that you can make your playing as flawless, smooth and connected as possible so that...

... finally you can start making your guitar sing.
Your Instructor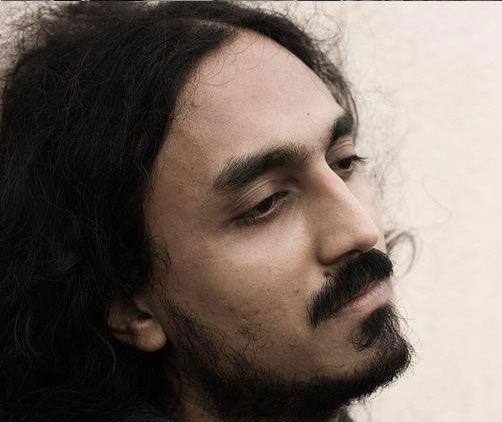 Hi! I'm Shyam. I started playing music at the age of 11 - specifically Indian Raga and Film Song music with detailed moves and fluency. Even after my studies at IIT (AIR 716), I continued with Music, Internet based teaching and other related fields.
Thanks for being here, and thanks for choosing to play Indian Raga music and Film songs on the guitar, the way it is sung.
For those of you who don't know me, I play and teach Indian music through youtube channels at shyammonk and the musicianself. I also have educational material at musicianself.com for Indian music, chords, rhythm, lead, singing, chord melody etc.
Music has kept me happy and peaceful through the different stages of life. I play and teach in order to share that peace and happiness with you.
Thanks again, for being here. :) Good to have someone who shares similar interests as mine.
Below is the list of videos we will begin with. Videos will be added as the course progresses.

Course Curriculum
Slides + Hammer On + Puff Off Level 02
Available in days
days after you enroll
Terms, Language, Amphibious Jargon
Available in days
days after you enroll
Frequently Asked Questions
When does the course start and finish?
The whole video content is for you to use at your leisure, at your pace. You will be notified of Meetings or interactions with Shyam, when included with the course. You can also write to Shyam with your doubts etc, when included in your plan.
How long do I have access to the course?
How does lifetime access sound? After enrolling, you have unlimited access to this course for as long as you like - across any and all devices you own.
What if I am unhappy with the course?
We would never want you to be unhappy! If you are unsatisfied with your purchase, contact us in the first 30 days and we will give you a full refund.
What currency do I pay in?
I have set the prices in USD. If you are paying from India, your bank or credit card is responsible for the conversions. That way we will avoid any possible confusion, and you will be clear about how much you are paying me during checkout.
This course is closed for enrollment.